My Crockpot Wassail
"As you bask in the joy of the Holiday Season
The attached refreshment only stands to reason
Will liven the mood and add warmth to the heart.
Especially on cold winter nights, it will do the part.
May your Holidays be happy and free from hassle
As you and your family enjoy the "Heart Warming Wassail."
1 Gallon of Apple Juice
*Optional - 12 ounces of Orange Juice (Fresh or Frozen)
(I have a sweet tooth so I like sweeter orange juices... with some pulp)
1-2 Tablespoons of Lemon juice (or 1/2 to 1 whole lemon)
Slices of Orange w/ peel
2 sticks of Cinnamon
Spices I like to use;
Cinnamon, Allspice, Cloves, & Ginger
about 1/2 to 1 Teaspoon each
Sweeten to taste...
I like about 1-2 cups of Brown Sugar
You may prefer otherwise....
*** As you can see I attempted to change my own recipe this year....
yeah ...skip the Mandarin oranges... they didn't do anything for taste or visual appeal
and I ended up scooping them out and adding a little bit more Lemon juice.
This year I used the frozen concentrate Lemon Juice from Minute Maid (AWESOME!!!)
and I cheated with Pampered Chef's Cinnamon Plus Spice Blend (about 1 Tablespoon)



And if your really lazy... or have a need for a smaller amount...
Try Martinelli's Organic Mulling Spice...
or something similar to it :)
The reason I like this one is that it includes ready to use spices in teabags..
1 Teabag per cup of apple juice...
Heck I have used it to cheat on my Wassail before ... shhhhh!


The Pioneer Woman's
Mulled Apple Cider
And you may not want to pass this up either....
Up Here's
Gluten Free Apple Cider Donuts
If you like this worksheet or want something similar go check out
Twisty Noodle
.
Need some help teaching fractions... What better way to do it then with an Apple or an Orange?
this is the book I would recommend;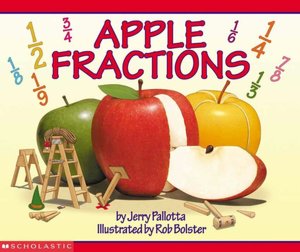 Apple Fractions
And if you need more ideas about how to teach with Apples
What else have you done with Apples?